Errors and Inconsistencies in the Tom Swift series
by James D. Keeline
E-mail address:
james@keeline.com

As a series is published over a span of twenty or more years, long-time ghostwriters may feel confident to write additional annual volumes without the aid of any prepared guides or notes. Such is the case with the Tom Swift series and its principal ghostwriter, Howard R. Garis (1873-1962).
One of the areas of inconsistency centers around the names of towns near Shopton. Tom's old friend, the eccentric Wakefield Damon, is best known for "blessing" more than 1,200 parts of his body and objects around him in the forty books of the series. He is described as living in a nearby village. However, the published volumes can't agree on the name of the town! In the first book (and most of them), it is Waterfield, New York. However, in other volumes the town is identified as Waterford, New York. In some books, both names are used as seen below. Incidentally, there is a real town of Waterford, NY (and a real Bayport, NY) but they don't seem to be the towns in question.
Waterfield
| | |
| --- | --- |
| | Tom Swift in the Land of Wonders: p18, 54 |
| | |
| | Tom Swift and his Air Scout: p15, 126, 132 |
| | |
| | Tom Swift and his Electric Locomotive: p35, 42, 64, 65, 70, 71, 79, 142 |
| | |
Waterford

As you can see,

Tom Swift in the City of Gold and Tom Swift Among the Fire Fighters contain multiple references to both cities. Even in volumes published in the first year there is inconsistency in a simple piece of information.

Similarly, the writers could not decide what was the name of the nearest large town. In the original series, three cities in three books are listed as the largest nearby town. In one book Mansburg was mentioned (

Tom Swift and his Airship, p1), in a later one "Centerford was the nearest large city" (Tom Swift and his Air Scout, p134), while two books later "'Over in Newmarket,' the man went on, naming the nearest large city" (Tom Swift Among the Fire Fighters, p80).

Of course, these kinds of errors are understandable and forgivable as are the multitudes of spelling errors which litter the series (see the list at the end of this article). It is hard to say if these were in the original typewritten manuscript or if they were generated by the typesetter. In some books, there are so many errors, one would think that the typesetter was drinking the night before. Since the printing plates were extremely expensive to make and correspondingly expensive to change, there are practically no examples of errors which were corrected. The only change I know of in the original series was the following passage:
"Nor were they like Greenbaum, though from two or three little signs Tom had an idea that some of these men were wealthy Jews." (

Tom Swift and his Talking Pictures, p180)
in the first printing which was changed to:
"Nor were they like Greenbaum, though from two or three little signs Tom had an idea that some of these men were very wealthy." (

Tom Swift and his Talking Pictures, p180)
by the second printing.

Tony Carpentieri has documented some changes in the Hardy Boys series and David Farah has noted some next title announcements which were revised in later printings of the Nancy Drew series in their respective bibliographies but I have not reviewed these to determine when the Syndicate was more likely to make them.

Some Tom Swift "errors" which were not changed include misidentified characters, incorrect references to past and future titles, and simple typographical errors.

In TOM SWIFT AND HIS FLYING BOAT (1923), Tom's father, Barton Swift is referred to as Barton Hopkins (p67).

In

TOM SWIFT AND HIS ELECTRIC RUNABOUT (1910), the previous title is incorrectly identified:
"In the fourth volume of the series, called 'Tom Swift and his Submarine' you may read how successful Mr. Swift was." (Tom Swift and his Electric Runabout, p13)
This is likely a simple error but it might suggest that this alternate title was considered for the fourth book in the series rather than TOM SWIFT AND HIS SUBMARINE BOAT (1910).
TOM SWIFT IN CAPTIVITY (1912) has two such errors. The next title announcement on the last page of the text gives "Tom Swift and His Electric Camera; Or Thrilling Adventures While Taking Moving Pictures." This title was considered for this volume but on the title proposal sheet it is crossed out in pencil and replaced with the title actually used, TOM SWIFT AND HIS WIZARD CAMERA (1912). On the back of the title page, the list of Tom Swift titles above the copyright message lists to "Tom Swift in Giant Land". This error led Sam Moskowitz to conclude in 1966 that "Giant Land" was an earlier variant of the title. The same page showing the change to WIZARD CAMERA also shows the change to TOM SWIFT IN CAPTIVITY. Interestingly, another Victor Appleton series used this suggested title as DON STURDY IN GIANT LAND (1930).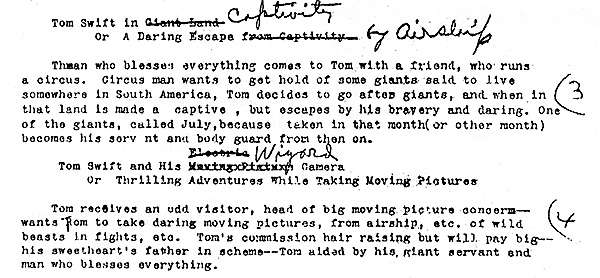 Below is a sampling of a couple typographical errors found throughout the series. Most are self-explanatory.
| | |
| --- | --- |
| | "All right. Tom, is you boat ready for a quick trip?" |
| | "... out lamps went out." |
| | "run from here there" |
| | "signing himseld as ..." |
| | "od man" |
| | "'Are you all right,Tom?' called Ned" (missing space) |
| | "horros" |
| | "grother" |
| | "therefor" |
| | "imformation" |
| | "to some to the United States" |
| Tom Swift in Captivity, p173 | "They could fell scarcely any weight" |
| | "couldn't think of nothing" |
| | "Yes so it it" |
| | "That what I think" |
| | "thhe" |
| | "Tom had been obliged to described the method he proposed" |
| | "Mary and Tom had know each other" |
The Tom Swift Jr. series was not error-free either. One fan wrote in to point out inconsistencies in plot on three early volumes in the series. In one of them, the Diving Seacopter loses power and the occupants cannot radio for help. They use the doors to paddle to an island. Once at the island, Tom lowers the tractors and drives the seacopter up the beach. Since they were without power, how was this done? The other two books made mention of Tom's use of the repelatron on his space station. In one book he is afraid to do it because it will "throw it out of its orbit" while in another he does it with no ill effects. The Syndicate asked Don Grote about this and he replied that the fan was correct. The Syndicate sent a letter (no doubt from the "Secretary to Victor Appleton II") to the fan indicating that the errors would be corrected in subsequent editions. To my knowledge, they were not.

Some other errors have to do with incorrect recounting of previous plots. There are several examples of this as well from both series.