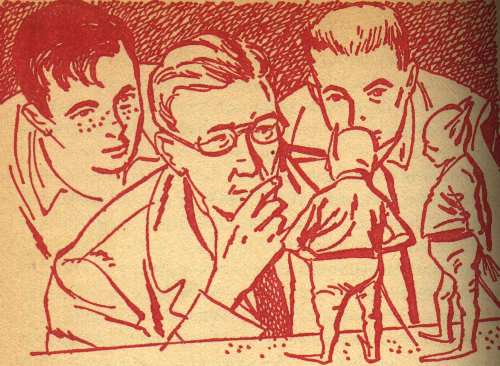 The Dig Allen Space Explorer Home Page
Last Updated: 5/27/2008
Hi! If you're interested in the rather obscure Dig Allen Space Explorer series, then you've come to the right place. For those of you who haven't heard of this series, I'll give a little background. The six volume series, which is set in the 22nd century, chronicles the adventures of a three-man team of teenage space explorers. The series first appeared in 1959, but for various reasons, it failed to sell well and its last volume was published in 1962.
Information on the series has been nearly impossible to obtain. From my own experience as a collector, though, I have found some little information, which I am publishing here. Please bear in mind that all of this has been gained from personal experience, so there could be an error here somewhere.
Here is how the listing works. Each of the links on the list below link to a page that gives information on each of the books. To access the information, simply click on the link.
Who wrote the Digby Allen series? -- Includes a letter written by the son of the author of the Dig Allen series.
Dig Allen: Doomed to Obscurity? -- An article on the current status of the series, and a plea for help with getting these great books back on the shelves in bookstores.
Formats of Dig Allen Books -- a short article on the different formats that the Dig Allen Space Explorer books are available in.
The Foreign Dig Allen Books -- a short article and some images from the Dig Allen books which were translated into other languages.
The Starman Series We set out to finish the Dig Allen series; instead, we ran aground with copyright problems and decided to write a new series of books for the children of today.
Question: I have heard a rumour that Joseph Greene was planning to write a seventh Dig Allen title called The Children of Neptune. Can anyone confirm this? If so, please e-mail me!

Questions?
Questions? Comments? Please e-mail me! My e-mail address is jmkc80@comcast.net.

Links
The Complete Tom Swift Sr. Home Page -- some information (it's just barely started) on the Tom Swift Sr. series
The Complete Tom Swift Jr. Home Page -- my main page, dedicated to the Tom Swift Jr. series
The Complete Ted Scott Home Page -- some information (well, almost none, actually) on the Ted Scott Aviation series.
The Great Series Book Links Page -- an ever-expanding page filled with links to all sorts of sites that deal with various series books
The Inter-Library Exchange Program -- Want to read that Tom Swift book that you've never managed to find? Read this to find out how you can read a copy of that book for free.
Looking for Books on The Internet -- Want to get together a complete set of Dig Allen books within a few months? Read this to find out how.
Copyright Information -- This site -- all of it -- was created solely for educational purposes. I am not in any way related to the owner of the copyright of the Dig Allen seriesÖ
All documents on this site are Copyright ©2008 by Jonathan K. Cooper. All rights reserved.